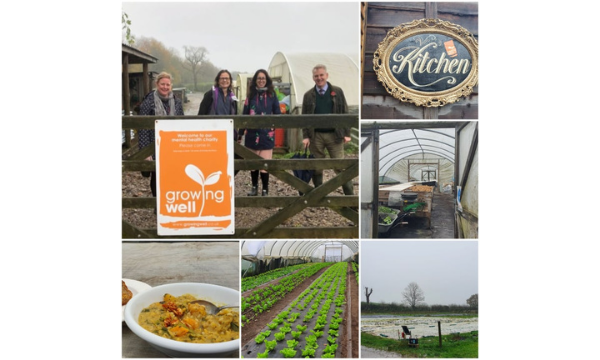 We (Jocelyn, Suzie, Ana and John) were pleased to be invited to Growing Well recently for a behind the scenes visit to their site at Low Sizergh Farm near Kendal, where we were welcomed by Richard Eccles, Growing Well's Development Manager.
Having supported and raised money for Growing well over the last couple of years, it was great to find out more about the brilliant work they do helping people who have poor mental health by building their confidence and self-worth and helping them learn new skills in safe and nurturing environment.
Paul Cambre the Commercial Growing Manager explained the importance of planning the crops to ensure they have sufficient variety to meet the demand for their crop share supporters, year round. The organisation was really impressive, and it was great to see crops still growing in the polytunnels at this time of year.
We also met with Life Skills and Outreach Co-ordinator Rebecca Batstone who explained all about her various roles to help us gain more of an understanding about how Growing Well help those who need their support.
The grim weather did not damp our enthusiasm and it gave us a real sense of the dedication that the team and volunteers have to make Growing Well such a special place.
Gathering together in the polytunnel was a lovely end to the visit. An opportunity to dry out and enjoy the delicious squash and barley risotto, and chocolate cake, that had been prepared in the site kitchen. This is also where volunteers make their fantastic range of chutneys, pickles and jams. Nothing goes to waste!
Taking part in the Cross Bay Walk to raise funds in August was obviously a highlight of our year, but we hope that we can continue to support Growing Well in the future by getting our hands dirty – we may have been volunteered for weeding duty!
For more information – https://www.growingwell.co.uk/